No matter what time of year you visit the Mississippi Gulf Coast, there are always exciting events to attend. During the winter, one of the most anticipated events is the Gulf Coast Winter Classic Horse Show. Year after year, people travel from near and far to watch this mesmerizing spectacle. Book your stay with us at Biloxi Beach Resort Rentals and get ready to horse around at the Grand Prix! 
How else will you spend your Gulf Coast getaway? Take a look at our free area Vacation Guide and start constructing your fun-filled bucket list! 
Free Biloxi Beach Vacation Guide 
All About the 
Gulf Coast Winter Classic Horse Show
This Gulf Coast classic event by United States Equestrian Foundation AA Rated Hunter-Jumper highlights some the sport's finest equine athletes from across the nation—and it takes place right here in Gulfport! The show features more than 1000 horses that are sure to impress.  
As per usual, the Gulf Coast Winter Classic Horse Show will be held at the Harrison County Fairgrounds and Equestrian Center. The event takes place over six weeks, which means you have plenty of time to stop by and see the highlights of the finest equestrian athletics. The main event each week is the Grand Prix, where riders compete each Sunday for $25000. Guests can attend on Wednesday through Sunday and admission is free on all days! 
What You Can Expect
It's time to start getting excited about this one-of-a-kind Gulf Coast event! The show has three all-weather rings, which are located close to one another for viewing. There is also a gorgeously maintained grass Grand Pix field and another well-maintained competition ring. This event is open for any skill level and is perfect for spectators of any age. 
Make the Most Out of Your Gulf Coast Getaway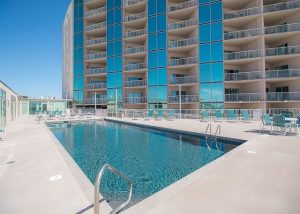 No matter how to choose to spend the rest of your vacation on the Gulf Coast, we know that you'll have a blast. Whether you're an avid horse fan or you're new to the equestrian world, you're sure to enjoy the classic company horse show.  
As you plan your stay by the shore, you'll need somewhere to rest your head. Look no further than Biloxi Beach Resort Rentals! We offer an impressive collection of vacation rentals throughout Gulfport and Biloxi, so you'll always be close to the area's best events and things to do. 
When you stay with us, you can live the life of luxury and take advantage of all our top-notch amenities. From resort-style pools to oceanfront views to putting greens, we've got everything you need for the ultimate vacation. Check our availability and book your stay with us today! We can't wait to host you!