During your stay in Biloxi or Gulfport, MS, you might find yourself itching to explore more of the Mississippi Gulf Coast. If you head east and drive over the Biloxi Bay Bridge, you'll find yourself in the eclectic town of Ocean Springs. Continue to read, and we'll tell you about the best things to do in Ocean Springs, MS. 
If you're curious about the best things to do in Biloxi and Gulfport, take a look at our Vacation Guide. It's the ultimate vacation planning tool, plus—it's free! 
What Are the Most Popular
Things to Do in Ocean Springs, MS,
With Kids?
Your whole family will have a blast when you spend the day at Fort Maurepas Park. It overlooks Front Beach and features a fun-filled ship playground and splash pad. For your convenience, you'll also find handicap accessible restrooms. 
For years, locals and visitors alike have flocked to Miner's Toy Store to find eclectic children's toys and gifts. They have a unique balance of old fashioned classic toys to the newest "must-have" toys. Also, it's one of the largest Madame Alexander doll dealers in the country.
What Are the Top Attractions to Visit in Ocean Springs?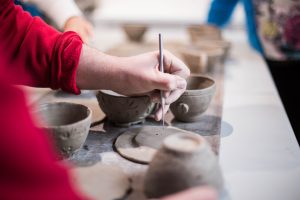 Shearwater Pottery is the home of the works of Peter Anderson. He was the master potter for over 50 years, and today his children continue to keep his legacy alive. When you visit Shearwater Pottery, you'll find gorgeous pottery, figurines, decorative tiles, ceramics, and more. 
The Walter Anderson Museum of Art features the impeccable work of Walter Inglis Anderson and his brother Peter Anderson. Walter Anderson's interpretations of the Gulf Coast's plants, animals, and scenery gave him the title of one of the finest American painters of the Twentieth Century. At the museum, you can gaze at his beautiful watercolors, drawings, oil paintings, ceramics, and carvings. Don't forget to pay a visit to the Little Room, where the walls are made of Anderson's creations that were only revealed to the public after his death. 
What Are the Best Outdoor Activities in Ocean Springs?
Nothing beats a day spent basking in the sand and swimming in the water at Front Beach in Ocean Springs. The beach stretches from the Biloxi Bay Bridge to Ocean Springs Harbor. Front Beach has everything you need for a perfect beach day, from a fishing pier to a playground to views of the Gulf Islands. 
From Florida to Mississippi, Gulf Islands National Seashore includes picturesque beaches and small barrier islands across the coastline. During your visit here, you can fish, bike, hike, or enjoy a picnic. Don't forget to bring your binoculars for one of a kind bird watching.
Stay in a Gulf-front Rental With Biloxi Beach Resort Rentals
After a day spent enjoying all fo the best things to do in Ocean Springs, MS, you'll need somewhere to rest your head and make your home. Biloxi Beach Resort Rentals is happy to provide you with stunning vacation rentals throughout Biloxi and Gulfport. All of our properties offer outstanding amenities and are located just minutes from the area's best attractions, beaches, casinos, restaurants, and more! It's time for you to start planning your next fantastic vacation. Browse our excellent Gulf Coast rentals and find your favorite. We'll see you soon!