Every year the Mississippi Coliseum hosts the Annual Crawfish Music Festival in Biloxi. And if you've never been to this festival and are planning a vacation in Biloxi at the end of April, you're in for a real treat. For three days, you'll have some of the best live music entertainment on the Gulf Coast, traditional Gulf Coast cuisine, fabulous arts and crafts vendors, and Midway rides and games. So keep reading to learn about this exciting festival that is a favorite in Biloxi, MS, and draws people from around the Gulf Coast region.
Planning a vacation can take a lot of research to figure out all the best places to go, so we put together a free Vacation Guide to make your vacation planning easier! Download our guide and get the best places to eat, attractions to see, and places to go during your vacation in Biloxi. Get your free copy and start planning today!
Everything You Need to Know About the Crawfish Music Festival in Biloxi
The History of the Crawfish Music Festival in Biloxi
The first Biloxi festival started in 1980 at the Biloxi Elks Lodge. In 1993, it gained enough attraction to move to a new location. As a result, the Mississippi Coliseum became its new home. This helped to make room for everyone attending. And then it eventually grew to become a multiple-day event due to its popularity and widely enjoyed fun!
30th Annual Crawfish Music Festival, April 21-23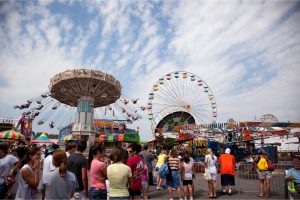 This year's festival celebrates 30 years of tradition in Biloxi. Celebrated at the Mississippi Coast Coliseum, this family-friendly festival offers quality entertainment for a long, wonderful weekend, perfect for a vacation getaway. It is on the front grounds of the Coliseum, with the Mississippi Sound creating a gorgeous shoreline atmosphere in the background. Each night offers new live bands and entertainment, fantastic crawfish, other food specialties, and Midway amusement rides.
Music Lineup and Performances
The Crawfish Music Festival boasts a diverse lineup of musicians every year. Previous headliners have included artists like Morgan Tyler, Red Shanan, Bones Owen, Whiskey Myers, Legends & Outlaws, Local Strawberry Blonde, and 49 Winchester, plus many more Below is the major lineup for this year.
2023 Crawfish Music Festival Guest Lineup
Friday, April 21
Jordan Davis, Seaforth, Chase McDaniel, and Lauren Watkins
Saturday, April 22
Dwight Yoakam, Ashley McBryde, The Weathered Souls, Drayton Farley, and Matt Hoziol
Sunday, April 23
Mike., Bailey Zimmerman, and Mackenzie Carpenter
Crawfish Cook-Off Competition
As the name suggests, this festival is not just about music but also about delicious crawfish. So the most exciting day is Saturday, April 22, 2023, when the Crawfish Cook-Off Competition occurs. This competition is for 30 of the best chefs and experts competing for the Best Boiled Crawfish title and an award of cash prizes of up to $4,000 to the winning teams. Additionally, there is a People's Choice winner for $1200 and an $800 award for second place.
You and your team can enter for a $75 cook-off entry fee if you think you're the best boiler and want to compete. Your entry fee will grant your team a 10′ x 10′ space, serving plates, a presentation container, and more. Check out the cook-off entry page for more information.
Vendor Food and Beverages
The main dish and attraction of this festival is crawfish, of course! But some people rather eat delicious food than cook it in a competition, and we're right there with you. A three-day weekend festival is a perfect time to do just that with live music! Enjoy copious amounts of hot crawfish with new potatoes and corn. To top it off, there is also plenty of ice-cold frosty beer to wash it down. Or, enjoy other types of cuisine by attending food vendors.
How much does it cost to get into the Crawfish Music Festival Biloxi?
Tickets for the Crawfish Music Festival are sold in advance online and at the gate, but prices might increase on the day of the event. Tickets start at $25 for general admission. And you can also choose from multiple seating options depending on where you want to sit. There is plenty of parking at the Coliseum. However, this event draws big crowds, so you should get there early.
This fun-filled festival is perfect if you're looking for a great way to spend a week-long or weekend vacation in Biloxi. It hosts an impressive and diverse live music lineup, some of the most delicious boiled crawfish on the coast, an exciting Crawfish Cook-Off competition, beer, rides, games, and other vendors.
The Crawfish Music Festival in Biloxi is a fantastic event for you and your family. If you attend this spring on your beach vacation, you will make memories of a lifetime.
So if you're planning your vacation during another part of the year, you're in luck. There are Biloxi festivals year-round where you can enjoy other exciting events and celebrations in Biloxi and other significant areas like Gulfport, Long Beach, Pass Christian, and more!
Looking for an Affordable Luxury Stay in Biloxi?
Our beautiful, fully furnished luxury condos offer gorgeous ocean views, fully equipped kitchens, plenty of amenities, and stunning ocean views. Our complexes are centrally located near all the best attractions. Casinos, restaurants, and other fantastic attractions are just minutes away, including miles of white sandy beaches!
Check out our vacation specials to learn more about our deals, and we also have an attraction package, where you can visit some of the most exciting activities to do in Biloxi with our vouchers!
Browse our great selection of condos in Biloxi, MS and book a reservation for your favorite unit today. Make your next beach vacation to Biloxi your best one yet!