If you live in Dallas, we think you need to treat yourself to a much-needed beach vacation in Biloxi, Mississippi. With sugar-white sand beaches, five-star casinos, and fantastic restaurants and attractions, this area has it all! Keep reading to learn how you can have the best trip from Dallas to Biloxi.  
With so much to see and do, we know that planning a vacation to Biloxi, MS, for the first time can be overwhelming. We're here to help! We've outlined all the best events, attractions, activities, and accommodations in the area in our Free Vacation Guide.  
Get the Free Biloxi Beach Vacation Guide 
 Must-See Stops on Your Journey from Dallas to Biloxi
Traveling From Dallas To Biloxi
If you want to travel from Dallas to Biloxi, you can expect to be driving in the car for a little under nine hours. If a road trip isn't your style, that's okay! You can easily sit back, relax, and let someone else do the work as you fly from Dallas to Biloxi. The travel time by air is only about 1 ½ hours, and it's easy to find nonstop flights. Currently, Spirit Airlines and American Airlines offer direct flights from Dallas/Fort Worth International Airport (DFW) to Louis Armstrong New Orleans International Airport (MSY), which is only 1 ½ hours from Biloxi.  
Pick the Perfect Accommodations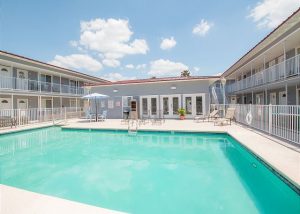 As you plan your fun-filled vacation to the Mississippi Gulf Coast, you'll need somewhere to rest your head and make the perfect home away from home. Look no further than Biloxi Beach Resort Rentals! We offer luxurious condo rentals in communities throughout Gulfport and Biloxi, so you're always in the heart of the excitement. No matter which rental property you choose to rent, you'll always have access to excellent amenities, such as private pools, playgrounds, saunas, fitness centers, putting greens, and more.  
Family-Friendly Activities
Are you heading to the Gulf Coast with the whole family? No problem! This area one of the best places to bring your kids along to make memories that will last a lifetime. Some of our favorite family-friendly activities in the area include:  
Attractions for Adults
The Mississippi Gulf Coast is known for being a fun-filled town that people of any age can enjoy. If you're treating yourself to vacation without the kids, Biloxi is an excellent choice. Whether you're looking to rekindle romance or forget about work and let loose, this is the place for you. Some of the best adult-friendly activities include: 
Book Your Biloxi Beach Vacation
There's no time to waste! You need to plan your getaway from Dallas to Biloxi today. Browse our accommodations and pick the perfect place for you! Each of our properties offers fully-equipped kitchens, cozy bedrooms, spacious living areas, and private balconies. You'll have everything you need to feel at home while you're having the best vacation of your life!