No matter what time of year you visit the Mississippi Gulf Coast, you'll always be greeted by picturesque scenery. One of our favorite things to do during the winter months is to sit back, relax, and enjoy magical sunsets at the beach. Read on to learn all about Gulfport winter sunsets.  
Here at Biloxi Beach Vacation Rentals, all our properties are located throughout Gulfport, MS, and Biloxi, MS. No matter where you choose to stay, you'll always be close to the area's best activities and attractions. Check out our Free Vacation Guide to discover more! 
Free MS Gulf Coast Vacation Guide 
Experience the Magic of 
Gulfport Winter Sunsets
The beaches along the Mississippi Gulf Coast are full of sugar-white sand, bright blue waters, and sunsets that are to die for. Whether you choose to enjoy a delicious dinner with beachfront views or you want to get some exercise and stroll along the shore, there are plenty of ways you can experience breathtaking Gulfport winter sunsets.  
1. Enjoy a Meal at Shaggy's
If the winter weather is a bit chilly for you, spend a lovely evening indoors at Shaggy's (they offer plenty of outdoor seating as well). This eclectic beach restaurant is a favorite spot among tourists and locals alike. The restaurant is located right on the water, so it's one of the top spots to watch the sun set below the night sky. If you're wondering what some of Shaggy's specialties are, we're fans of their fish tacos and po-boys, and you can't go wrong with any of their refreshing cocktails.  
2. Spend Your Evening on the Water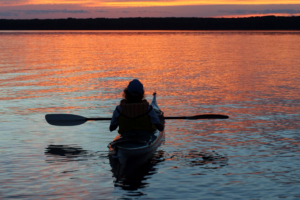 Do you want to get up close and personal with Gulfport beach sunsets? Get out on the water and gaze at the sunset from a boat. If you're comfortable driving a boat yourself, you can rent a pontoon boat and take your family out on an adventure. You could also venture out into the ocean or back bay waters when you rent kayaks for paddleboards. If you want someone else to be the captain, there are many boating opportunities to choose from. The Betsy Ann Riverboat offers sunset cruises with live music, and La Dolce Vita has a full-day cruise that lasts into the evening.  
3. Relax at the Beach
Of course, we can't talk about Gulf Coast sunsets without mentioning the beach. Whether you're on a romantic getaway with your partner or you're enjoying a family-friendly vacation, you can't beat an evening spent on the beach watching the gorgeous colorful hues of the sunset in the sky. Stroll hand in hand with the person you love and walk up and down the coast. Or, pack a blanket, snacks, and beverages and enjoy an intimate picnic.  
Stay In a Stunning Beach Condo
No matter what you choose to do during your stay here, we're sure you'll have the time of your life! There are plenty of things to do while visiting, and we can't wait to get to know you! Plus, with nine different condo locations, we're sure you'll find the perfect beach vacation rental for you. Take a look at our condos and start planning your ideal sunset getaway today!