While summer and early fall are popular times to take beach trips, winter and spring getaways can be a bit more special. Plus, you won't be fighting the heavy crowds of visiting tourists! When you vacation during winter in Biloxi, Mississippi, you'll be in for a treat! Biloxi Beach Resort Rentals has everything you need to embrace the winter season this year and have an unforgettable stay down south! 
Do you need help creating your Gulf Coast getaway to-do list? We've got you covered! Download our complimentary Vacation Guide to learn about all the best things to see and do in the area.  
Free Biloxi, MS, Vacation Guide 
Tips and Tricks for Your Vacation During 
Winter in Biloxi
It's no challenging task to have a blast in Biloxi—that will come naturally! Make the most out of your winter in Biloxi with our helpful local tips: 
Explore the town and live like a local

 

Plan to visit the beach

 

Bring sunscreen

 

Watch the temperature and pack accordingly

 
Live Like a Local
Once you arrive, you'll want to get out on the town and experience the Gulf Coast like the locals. Head to some of the best barbecue joints around or enjoy delicious, fresh oysters at award-winning seafood restaurants. Your taste buds will be dancing with all the wonderful food options in Biloxi. 
Burn off those calories and stroll through the city, and check out the many storefronts and shops in town. You can also visit fascinating museums, enjoy water sports and other outdoor activities, or catch happy hour at one of the town's many beachside bars.  
Are you feeling lucky? Then you're in the right spot. Biloxi, Gulfport, and Ocean Springs are filled with outstanding casinos. No matter what your preferred game is, you won't be disappointed here.  
Hit the Beach
Whether you're traveling from near or far, you'll want to be sure to spend some time on our stunning beaches when you're staying in Biloxi. Our beautiful blue waters have an average high temperature of 74 degrees in October and 66 degrees in November. You'll find that people are still taking a dip in the ocean during this time of year—so please feel free to join!  
If it's a bit too chilly for you to go swimming, you'll love spending quality time soaking up the rays. There's plenty to do at our beaches! You can spend your days enjoying a picnic, hunting for seashells, parasailing above the waters, playing beach games, watching the sunset, and so much more. 
Don't Forget the Sunscreen
Sunscreen is a big must for anyone traveling south this winter. Sunburn occurs when exposed to too much UVA and UVB rays produced by the sun. While the sun rays aren't as harsh as in the summertime, they are still present and dangerous during the winter months. We know it's not fun being sunburnt for the rest of your trip, so it's always important to pack this necessity. Before spending your days walking around outside or at the beach, be sure to put on sunscreen to help combat the effects. 
Pack Your Suitcase Accordingly
Before you pack for your winter vacation, be sure you check the weather! From November to April, temperatures in Biloxi and the Gulfport range from 40-60 degrees. While that might be chilly for locals, depending on where you're coming from, it might seem like a heatwave! Layers are always a great choice. You might also want versatile items that can work well if you're here for a longer time. 
Book Your Winter Home Away From Home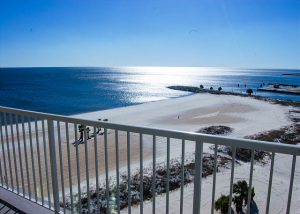 Spend your winter days relaxing by the sand and enjoy all that the Mississippi Gulf Coast has to offer. We promise you won't miss the cold while you're here! Find your ideal vacation rental with Biloxi Beach Resort Rentals. We offer an array of rental properties throughout Gulfport and Biloxi, each ranging in size and shape. Every unit features outstanding amenities and will make you feel right at home.  
Check our availability and book your winter escape today!