Are you craving a change of pace? Why wait until the weekend when you can treat yourself to a midweek stay in Biloxi? Keep reading to learn about all the benefits of escaping during the week to the Mississippi Gulf Coast.  
As you plan your midweek stay in Biloxi, MS, be sure to take advantage of our complimentary Vacation Guide. It contains local insight on the best restaurants, events, outdoor activities, bars, outdoor activities, and more! 
All About 
Midweek Stays in Biloxi
There are many reasons why booking midweek getaways is a fantastic idea! Let us tell you more about three of the major benefits when you choose to travel during the midweek.  
Lower Rates
With most travelers waiting until the weekends to reserve their trips, many hotels and vacation rental companies have an increase in inventory during the week. This results in cheaper accommodation rates and travel expenses during midweek. There's no need to spend extra money on your vacation home when you can save that money for a future trip or spend it on fun-filled attractions along the Gulf.  
Smaller Crowds
Whether it's spring, summer, fall, or winter, it's always the best time to visit Biloxi! The most popular times for people to visit the area is during the weekends in the warmer months. You can avoid the crowds when you book your stay during the weekdays. Less-crowded conditions are perfect for social distancing. Plus, you won't have to worry about long lines at bars, restaurants, and attractions.  
Save Your PTO
Throughout the last year, more and more companies are opting to allow their employees to work from home rather than coming into the office. When you work remotely, you have the flexibility to take your work on the road with you. Your office can virtually be anywhere with an internet signal! When you stay with Biloxi Beach Resort Rentals, you'll have access to free Wi-Fi and spacious areas to get work done, such as a private balcony overlooking the scenic Gulf of Mexico! When you treat yourself to a midweek stay in Biloxi, you get work accomplished, shut your laptop, then head out and enjoy the town, all while reserving your PTO!  
Plan a Stay 
With
 Biloxi Beach Resort Rentals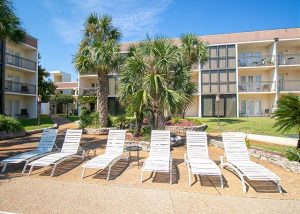 Now that you know all the top-notch benefits of visiting the Gulf Coast during the week, it's time to plan your much-deserved getaway. When it comes to luxurious accommodations in Biloxi and Gulfport, look no further than Biloxi Beach Resort Rentals. We're proud to offer fantastic vacation rentals along the coast paired with outstanding amenities. Each property features cozy bedrooms, spacious living areas, fully-equipped kitchens, and private balconies or patios. Our condominium complexes are located in the heart of all the excitement are within walking distance of some of the best things to do in the area.  
What are you waiting for? There's no time like the present to plan a vacation to the Mississippi Gulf Coast. Check our availability and book your stay with us today. We can't wait to have you!