What does a typical Thanksgiving look like for you? Do you spend the day cleaning the house and cooking in a hot kitchen while trying to juggle friends and family members? That doesn't sound like a relaxing holiday to us. This year, switch things up and treat yourself to a relaxing getaway on the Mississippi Gulf Coast. We'll share all the ingredients that make Thanksgiving in Biloxi, MS, so magical.  
No matter what time of the year you visit Biloxi, there's plenty of fun things to see and do! Get the inside scoop with our complimentary Vacation Guide.  
All About 
Thanksgiving in Biloxi, MS
When you spend Thanksgiving in Biloxi, MS, you can enjoy sandy beaches, gorgeous weather, and unmatched quality time with the most important people in your life.  
Fantastic Weather
For many of us, Thanksgiving is associated with chilly temperatures—and sometimes even snow! When you spend the holiday along the Gulf Coast, you never have to worry about shoveling your driveway or scraping ice off windows. During November, the temperature in Biloxi typically ranges from 74 degrees to 67 degrees. The temperature rarely falls beneath 56 degrees or exceeds 81 degrees. It doesn't get much better than that! 
Enjoy a Home Away From Home
One of the best parts of vacation is getting a change of scenery. When you stay with us at Biloxi Beach Resort Rentals, you can feel at home in one of our luxurious vacation rentals. Each property ranges in size and can accommodate a group of up to 10 people. Or, each family can rent their own unit in the same building, so you can enjoy your own space while having plenty of options for hangout spots. Guests will appreciate our fully-stocked kitchens, which are perfect for enjoying a Thanksgiving feast. Plus, our fantastic amenities include resort-style pools, beach access, putting greens, fitness facilities, playgrounds, and more! 
Get In the Festive Spirit
Once Thanksgiving comes around, it's essentially the kickoff of the holiday season. Get into the festive spirit and visit the Annual Gulfport Harbor Lights Winter Festival. This spectacular light show was named the "Most Magical Show in Mississippi" and features dazzling lights, exciting rides, live entertainment, and everything else you need to make long-lasting holiday memories. The festival is open daily from November 26 until the end of December.  
Pick the Perfect Property for Your Family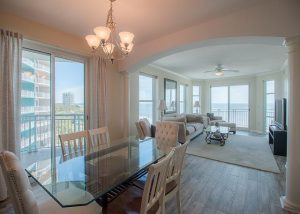 It's time to start planning the ultimate Thanksgiving getaway! Stay with us at Biloxi Beach Resort Rentals and choose from a wide variety of top-notch vacation rentals. 
A popular property among families is Legacy II 701 Deluxe. This beautiful corner unit features three bedrooms, three bathrooms, and can accommodate 10 guests. Some of the standout amenities in this unit include granite countertops, a wet bar, a breakfast bar, garden bathtubs, standalone showers, and complimentary WIFI. Everyone will fall in love with the private, oversized balcony that offers breathtaking views of the Gulf of Mexico.  
Check our availability and book your stay with us today! We can't wait to host you this holiday season!