If you own a rental property on the Mississippi Gulf Coast or thinking about investing in one, we know how big of an investment that is. Here at Biloxi Resort Rentals, we know all the ins and outs of a top-notch management program, and we take property care and owner relationships very seriously. We offer the best Biloxi Property Management around, and we'd love to work with you! 
Our friendly and knowledgeable team is prepared to make your real estate investment work for you! Begin the process of Biloxi Property Management and receive a free property analysis today!  
All About Our
Biloxi Property Management
Are you ready to discover what makes our property management services the best on the Gulf Coast? Read on to find out! 
Who We Are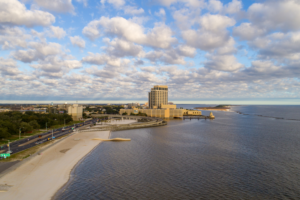 Since 2007, Biloxi Beach Resort Rentals has remained the largest vacation rental management company on the Mississippi Gulf Coast offering gorgeous vacation rentals. Time and time again, we're proud to be chosen more often than any other property manager on the Gulf Coast. 
Our real estate services include promoting your property, finding your guests, and providing excellent service during their stay. We're dedicated to providing quality standards, exceptional customer service, local area knowledge, and more. 
Our Relationship With You
It's our mission to help you maintain a high-quality vacation rental property that will please your guests and you! Whether you have experience owning vacation rental properties or are new to the vacation rental business, we are excited to help you make the most out of your rental property here in Biloxi or Gulfport. 
We know that a successful rental program requires a unique partnership between the owners and the management company. When you select us as your exclusive rental management in Biloxi, our mutual goal is to maximize your rental income. 
Services We Provide
Do you know how to maintain a high-quality vacation rental? We sure do! Learn about the exceptional services that we can provide for you: 
Strategic marketing programs led by professionally trained reservations specialists

 

An unparalleled website with online booking capabilities, including interior, exterior, and amenities photos

 

Professional photography

Predictable monthly maintenance fees at below-contractor rates

 

Laundry and linen services

 

24-hour maintenance staff available for emergency and everyday repairs

 

Highly detailed housekeeping services

 

Property inspections and reporting to owners with recommendations to improve reliability

 

Owners' admin portal

 

Individual monthly accounting with direct deposit

 

Direct communication with your property manager

 

Keyless entrée with a digital lock that we pay for, install, and manage

 

Plus, even more!

 
Get Started With Our Biloxi Property Management
Here at Biloxi Beach Resort Rentals, we take pride in being a local, family-owned business and view our employees, property owners, and valued guests as one big happy family. We're thrilled at the prospect of beginning a positive business partnership with you! If you're considering a rental program for performance and productivity in Biloxi or Gulfport, reach out to us, and we'll help you accomplish all your goals!