We're sure you're familiar with Mardi Gras, but have you ever had the pleasure of celebrating it at the Mississippi Gulf Coast? There's nothing like it! Our area is home to an array of fun-filled Gulf Coast celebrations, and people travel from near and far to experience Mardi Gras in Biloxi, MS. Discover what's in store for you at this one-of-a-kind event! 
Refer to our Free Vacation Guide to find more things to see and do during your Biloxi getaway. It features all the best local insight for curating the ultimate beach vacation bucket list.   
Immerse Yourself in the Colorful Mardi Gras Festivities
As New Year's Eve celebrations come to an end, it's time to start looking forward to everything that January and February bring. Let's get ready to kick off one of the most infamous Gulf Coast celebrations—Mardi Gras in Biloxi, MS! 
When is Mardi Gras?
Each year, the Gulf Coast Carnival season begins during the first week of January. The exciting events, festivals, and parades last until Fat Tuesday.  
Mardi Gras is French for "Fat Tuesday," which marks the end of Carnival season. It lands on a different date every year, but it's always the day before Ash Wednesday, which is always 46 days before Easter.  
How To Celebrate Mardi Gras in Biloxi
Parades
Carnival parades have been a staple in Mississippi for over 100 years. Today, more than 20 separate ceremonies run during the season throughout the Gulf Coast. 
During these parades, you'll see beautifully decorated floats, live entertainment, and extravagant costumes. You can also experience the trinkets tossed from the floats. Favorite items include smaller trinkets such as doubloons, beads, stuffed animals, and more. 
Here in Biloxi, there are quite a few Mardi Gras celebrations you'll want to be sure to check out. Below we've listed some of our favorite parades you'll find in Biloxi and other surrounding areas: 
Annual Ocean Springs – Elks Mardi Gras Parade

 

Annual Carnival Association of Long Beach Mardi Gras Parade

 

Annual Krewe Of Gemini Mardi Gras Day Parade in Gulfport

 

Annual Krewe of Neptune Night Mardi Gras Parade in Biloxi

 

Annual St. Paul Mardi Gras Parade in Pass Christian

 

Annual Mystic Krewe of the Seahorse "Lundi Gras" Parade in Bay St Louis

 
Other Mardi Gras Events
In addition to parades, the Mississippi Gulf Coast holds many other thrilling Mardi Gras events you can look forward to. "Carnival on the Coast" continues with the party getting bigger and better every year! 
Annual Mystic Krewe of the Seahorse "Mutiny in the Bay" in Bay St Louis

 

Krewe of Les Belle Fleurs Annual Mardi Gras Ball in Biloxi

 

Annual Gulf Coast Carnival Association Coronation Ball in Biloxi

 

 

Live music and special events at 

local Biloxi bars

 and 

restaurants

 

And so much 

more

!

 
Stay In the Heart of Excitement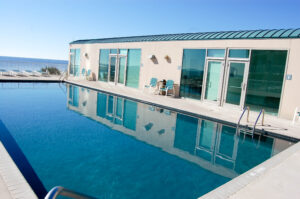 When you're looking for a place to stay with you're visiting Biloxi for Mardi Gras, Biloxi Beach Resort Rentals is the perfect solution. We offer top-notch vacation rentals throughout Gulfport and Biloxi, so you can be sure you're always near the excitement. No matter how late you stay up celebrating, you can be sure you'll get a fantastic night of sleep in our luxurious properties.  
We hope to see you soon! Learn more about our resorts and book your vacation with us today.