Are the winter blues getting you down? Pick yourself up and embark on a much-needed winter getaway to the Mississippi Gulf Coast. You can't beat the white sand beaches, clear blue skies, and mild weather during this time of the year. Keep reading to learn about Biloxi, MS, weather in February, and other information about winter on the Gulf.  
For a complete guide on the best things to see and do throughout Biloxi, Mississippi, refer to our complimentary Vacation Guide. It's the ultimate time-saving vacation-planning tool! 
Biloxi, MS, Weather in February
It's always the best time to visit Biloxi! Learn how you can make the most out of your trip to the coast in February and other winter months.  
During February, the average high temperature usually ranges from 61 to 66 degrees. The daily low temperature usually runs around 51 degrees. The weather forecast rarely calls for temperatures below 50 degrees or above 73 degrees. For reference, on the coldest day of the year in January, the temperature dropped to 45 degrees. 
How 
To
 Enjoy Biloxi in the Winter 
What 
To
 Pack in Your 
Suitcase
It's time to start getting excited and ready to go for your winter vacation to Biloxi! Overall, the town is laidback and casual attire is accepted. The weather is mild, and you won't need to pack bulky coats and sweaters. We'd recommend shorts, pants, t-shirts, long-sleeved shirts, and a light jacket for the evening. The temperatures are warm for the most part, and you'll see locals sporting sandals year-round.  
Celebrate Valentine's Day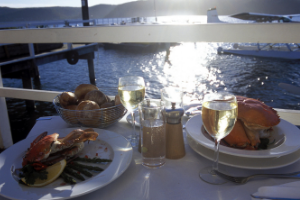 February is the most romantic month of the year, and you and your sweetheart deserve to celebrate! Biloxi is a breathtaking location and full of romantic activities to enjoy. Some of our favorite ways to feel the romance in Biloxi include sailing on a sunset harbor cruise, dining at a waterfront restaurant, exploring the historic Biloxi Lighthouse, and more! 
Enjoy the Great Outdoors
One of the best qualities of Biloxi is its fantastic weather. During the winter, reconnect with Mother Nature by going golfing, exploring the Gulf Islands National Seashore, having a picnic on the beach, going kayaking or paddleboarding, and much more.  
Take a Day Trip 
To
 Ocean Springs
If you find yourself itching to explore more of the Mississippi Gulf Coast during your stay in Biloxi, head east and drive over the Biloxi Bay Bridge to visit the eclectic town of Ocean Springs. The town is filled with lots of fun-filled things to do! From taking a stroll on Front Beach to shopping for gorgeous pieces at Shearwater Pottery to embracing your inner child at Miner's Toy Store, you'll never be bored in Ocean Springs.  
Stay in a Biloxi Beach Resort Rental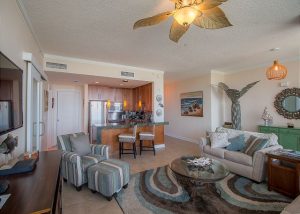 When you're looking for a top-notch vacation rental along the Mississippi Gulf Coast, look no further than Biloxi Beach Resort Rentals. We offer luxury accommodations with outstanding amenities, just minutes away from all the area's best activities and attractions.  
When you stay with us, you can choose from gorgeous vacation rentals in an array of communities. When you stay in Ocean Club Condominiums, you can enjoy stunning Gulf views with floor-to-ceiling windows, spacious kitchens with granite countertops, high-speed Wi-Fi, oversized soaking tubs, and more. 
It's time to start planning your winter escape to Biloxi! Check our availability and book your stay today.