If you live in the Houston area, we think you need to treat yourself to a much-deserved coastal getaway. The Mississippi Gulf Coast is filled with exciting casinos, picturesque beaches, family-friendly activities, and five-star accommodations. To learn how you can have the best getaway from Houston to Biloxi, just keep reading! 
Biloxi Beach Resort Rentals offers amazing vacation rentals throughout Gulfport and Biloxi, MS. We're also happy to offer a free Vacation Guide so you can learn about all the best things to see and do in the area! 
Houston To Biloxi
: Everything You Need To Know
Between determining your means of transportation, where you'll stay, and how you'll spend your time, there's a lot that goes into planning a vacation. We're here to help! 
Traveling From Houston to Biloxi
If you're in the mood for a good road trip, pack the car and head to the Gulf Coast. The driving distance from Houston to Biloxi is about 6 ½ hours, which isn't too bad if you're staying in the area for an extended period. Along the way, you'll pass through Lafayette and Baton Rouge, which make for fun-filled pit stops. You can also take a slight detour and visit the one and only New Orleans.  
If a road trip doesn't seem convenient for you, opt for a leisurely flight. A flight from Houston (IAH) to Louis Armstrong New Orleans International Airport (MSY) is a little longer than one hour. Nonstop flights are currently available from United Airlines, Spirit, and Southwest at affordable rates. After you land, hop in a taxi, rental car, or rideshare and head for the coast! The drive is only 1 ½ hours long.  
Make the Most Out of Your Biloxi Getaway
You did it! You've arrived in the gorgeous paradise of Biloxi Beach! Now it's time to fill your schedule with fun-filled activities.  

Stay In the Best Gulf Coast Accommodations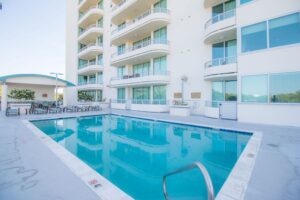 As you plan your unforgettable getaway to Biloxi, you'll need a place to rest your head and make the perfect home away from home. Biloxi Beach Resort Rentals is the place to be! We have exquisite vacation rentals in areas all over Gulfport and Biloxi, so you'll never be far from the action. Plus, we offer superb accommodations that you'll have full access to, such as resort-style pools, putting greens, fitness facilities, and breathtaking views of the sparkling water.