When was the last time you and your sweetheart got away and spent time with just the two of you? There's no time to waste! Right now is the perfect time to escape to the Mississippi Gulf Coast. Biloxi Beach Resort Rentals offers luxurious condos throughout Biloxi and Gulfport. Each unit features picturesque views of the Gulf of Mexico and is conveniently located near the best things to do in Gulfport, MS, for couples.  
 For a complete guide to the area's best attractions, restaurants, events, and more, download a copy of our complimentary Vacation Guide.  
The Top Biloxi Attractions for Couples
Are you curious about what the best things to do in Gulfport, MS, for couples are? We're here to tell you some of our top picks! 
1. Set Sail on the Open Water
Plan a special date that your special someone will never forget. Can you think of anything more romantic than cruising along the open water, listening to the sounds of waves and seagulls, and feeling the salty breeze run through your hair? We can't! Throughout the area, there is an array of Gulf cruises to choose from that offer outstanding sunset views and glimpses of wildlife. Some of the most popular boating companies in the area include Biloxi Schooners, Ship Island Excursions, and the Betsy Ann Riverboat.  
2. Take a Trip
To
 Ocean Springs
Although all our condominiums are in the heart of Gulfport and Biloxi and are near the best attractions, you might find yourself wanting to explore more of the Gulf Coast. Take a quick ride over the Biloxi Bay Bridge and visit the unique town of Ocean Springs. During your trip here, you can enjoy a romantic sunset as you relax on a blanket on Front Beach. You can enjoy a romantic sunset during your trip as you relax on a blanket on Front Beach. You can also enjoy a scenic stroll through Gulf Islands National Seashore.   
3. Go Casino Hopping
Leave the children at home and treat yourself to some adults-only fun. There is an impressive list of exhilarating casinos located throughout the Gulf Coast, and when you stay with Biloxi Beach Resort Rentals, you'll be near them all. When you visit the casinos, you can try your hand at classic table games and the newest slot machines. In addition to gambling, the casinos also offer 5-star restaurants, serene spas, music venues, and sparkling pools. Some of the most popular casinos in the area include Golden Nugget Casino Resort, Hard Rock Casino, Boomtown Casino, and more!  
Stay in a Biloxi Beach Resort Rentals Condo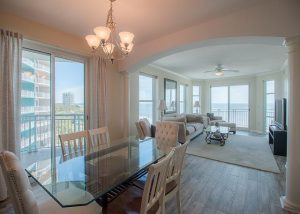 Biloxi Beach Resort Rentals offers luxury accommodations with outstanding amenities, just minutes from the area's best beaches, casinos, restaurants, and more. We offer an array of rental properties in Gulfport and Biloxi in various condominium complexes. When you stay with us, you can enjoy outstanding amenities, including resort-style pools, exercise facilities, playgrounds, saunas, and more! Plus, your rental unit will have a private patio or balcony with fabulous views.  
It's time to book your romantic getaway. We can't wait to host you! Check our availability and book your stay today.